Implant-Supported Dentures Are a Full Mouth Reconstruction Solution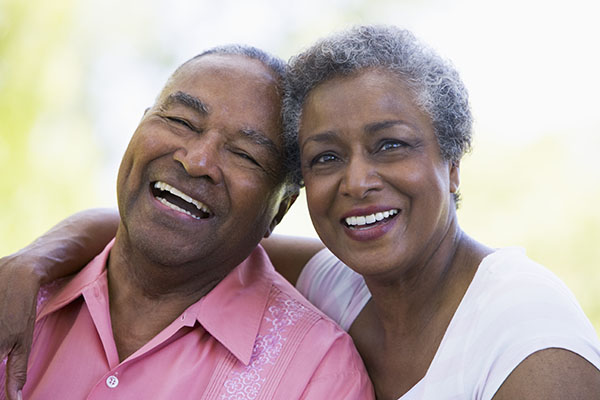 Implant-supported dentures for a full mouth reconstruction is the dental process of replacing or rebuilding all your teeth. Whether the teeth are damaged, missing or decayed, getting implant-supported dentures is an option when you want to have a smile you can be proud of.
Considering implant-supported dentures for a full mouth reconstruction
Implant-supported dentures are a great option for replacing teeth during a full mouth reconstruction. When a person has no support from either the teeth or dentures, it can lead to a face that sags. This makes them appear aged more than their years. Having these dentures can provide a patient with a natural-looking smile. Additionally, it provides the ability to chew and speak better.
More stability
Once the surgery is complete, and the implant-supported dentures are in place, there is none of the normal slipping and sliding that come from conventional dentures. Chewing foods like a well-done steak, can become possible once more because the new implants actually replace the missing tooth roots. The implants become a stable base for the dentures to attach to.
The surgery to place the dental implants begins with numbing the area. Then, the dentist places the posts through small gum incisions into the jawbone. The number of posts placed will be dependent on the specific type of dentures used. It can take up to six months to heal. When it does, the dental implants will be bonded to the bone, providing an even sturdier base.
More convenience
Because of the way the new dentures are secured in the mouth, it makes routine oral hygiene habits simple. A person with these dentures can continue to brush and floss daily with no problems. It should be said, though, that these maintenance techniques are very important for a person's continued oral health. This is especially true when it comes to dental implants and their dentures.
Gum disease can be a big problem because it can lead to gum recession. This means the soft tissue can begin to pull away from the implant posts. For most people, dental implant failure is not normal. The person can continue to use the new dentures for a long time. Make sure to keep all scheduled dentist appointments.
The jawbone can become healthier
Jaw health is an important part of oral health, especially with implant-supported dentures. When the artificial teeth come together, a small shockwave will be sent out to the surrounding bone tissue. This will stimulate the regeneration of the bone and replace the cells lost during everyday life. When there are no teeth or dentures to send this signal, the shape of the jaw may begin to change. Additionally, the bone itself could begin to move away from any remaining tooth roots, leading to extra loss of teeth.
Reconstruct missing teeth with these implant-supported dentures
If you are considering a full mouth reconstruction, make sure that you take a good, long look at implant-supported dentures. This option could be the solution that you have been trying to find. Convenience, stability and helpful to your jawbone — this is something to discuss with your dentist today.
Request an appointment here: https://mitchellvillefamilydentistry.com or call Mitchellville Family Dentistry at (301) 202-3499 for an appointment in our Glenn Dale office.
Check out what others are saying about our services on Yelp: Read our Yelp reviews.