What You Should Know About Implant-Supported Dentures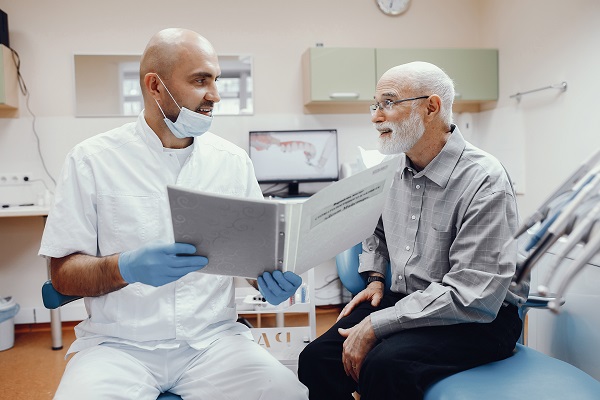 This text covers common questions about implant-supported dentures, providing valuable information for those considering this treatment option.
What to expect when getting implant supported dentures
Getting implant supported dentures starts with a consultation with a dentist. The installation of implants is a surgical procedure, so the patient needs to be healthy enough to recover from it. Health conditions like immune system disorders can limit a person's ability to heal, as can habits like smoking and regular alcohol consumption. The dentist will go over the patient's medical history, their habits and any medications they are taking before they can be cleared for implants.
Patients also need to have enough jawbone thickness to hold implants in place. People who have worn traditional dentures for a while might have lost some bone tissue due to resorption. Such patients might need bone grafts to thicken their jaw. They will need to be fully recovered from the procedure to continue with the installation of implants. That can take up to three months.
During the installation of the implant, a shot of a local anesthetic is administered. This prevents the patient from feeling pain while the dentist works on the implant.
Holes are drilled into the patient's jaw and implants are placed in them. The dentist might drill four to six holes for each half of the jaw.
Once the implants have been inserted into the patient's jaw. The dentist might attach a temporary set of dentures to them.
The implants then get up to six months to fuse with bone tissues in the jaw. The process is known as osseointegration and joins the implants with the patient's jaw.
The dentist removes any temporary dentures used and attaches the patient's permanent dentures. The patient might be scheduled for follow-up visits to monitor how they are adjusting to their prosthetics.
Benefits of implant supported dentures
People who choose implant supported dentures to replace their missing teeth get to enjoy benefits like the following:
Implant supported dentures help keep the jawbone healthy by stimulating it
The implants can last the rest of the patient's life
Implant supported dentures are more stable than traditional dentures
Non-removable implant supported dentures do not require specialized care
Getting implant supported dentures is more affordable than replacing an entire set of missing teeth with implants
Implants-supported dentures look and feel like real teeth
Replace your missing teeth
Living with missing teeth brings its share of challenges. It can make eating your favorite foods a challenge and can affect your speech. It can also leave you feeling self-conscious about the way your smile looks. Give us a call or drop by our Glenn Dale clinic to learn more about how implant supported dentures work.
Request an appointment here: https://mitchellvillefamilydentistry.com or call Mitchellville Family Dentistry at (301) 202-3499 for an appointment in our Glenn Dale office.
Check out what others are saying about our dental services on Yelp: Implant Supported Dentures in Glenn Dale, MD.